Gourd Jewelry Workshop II: Gourd Bead Forms

This hands-on workshop offers the participant the opportunity to build on the skills learned in Gourd Jewelry Workshop I. Instruction includes tips and techniques in fabricating dramatic gourd bead forms as well as finishing techniques to take your bead creations from plain to simply gourdeous!

You'll leave the class with several one-of-a-kind fabricated gourd beads forms to be used as pendants and/or brooches. Early registration recommended. Class size is limited to ten. 

Note: Prerequisite - Gourd Jewelry Workshop I.

Materials Supplied:

Written tutorials, gourd pieces for fabrication, paint, protective sealant, Zap-a-gap glue, wood glue, electric drill, paperclay, wood filler, paper towels/napkins and pencils.

Supplies to Bring:

X-Acto® knife with #11 blade, Excel hobby knife with #27 saw blade, grapefruit spoon or small metal spoon, dust mask, latex or vinyl gloves (if sensitive to mold), findings for necklaces and/or brooches, sand paper (i.e., 60, 180 and 220 grit), round or flat paint brush, soft cloth and towel.

Samples of the types of fabricated gourd bead forms to be created in class (brooch and necklace respectively).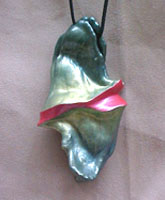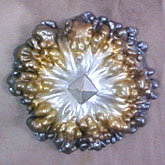 1800 Beacon Ridge Road . #343 . Charlotte, NC 28210

www.salafaruq.com . salafaruq.blogspot.com www.etsy.com/shop/salafaruq

(704 ) 891-0253 . sala@salafaruq.com